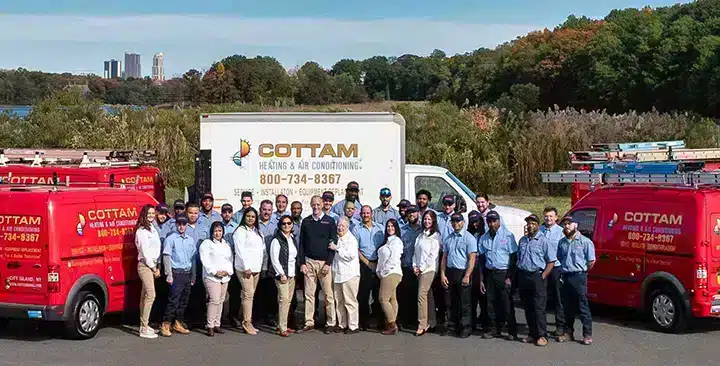 Careers at Cottam Heating & Air Conditioning
A few of the reasons that our team members LOVE working here:
Your birthday is a paid day off
Paid Training
Incentive Programs
Amazing 401K Participation
Benefits Participation Medical / Dental and Life Insurance
Quarterly all company breakfast
Uniform provided
Bonus Programs
Spiff Programs
Boot Allowance yearly
Monthly Company meetings
Seasonal Company outing (Spring & Fall)
Friendly and family style work environment
Strong supporters of various Food and Clothing drives
Strive to live by Company Core Values and Rules of the game both professionally and personally.
Benefits You'll Love
Vacation Pay & Paid PTO
Company Events
Partnered with Milwaukee Tools
Competitive Pay
Career Opportunities
Profit Sharing Participation
Our Values
These 5 Core Values are to demonstrate to all employees and customers that Cottam Heating & Air Conditioning Inc. commit to the highest expectations for how we as a team and a person should interact with all.  Values such as responsibility, honesty, respect, courage, safety and hard work can and will create the stepping stone to fulfillment and success.  With these values our drive to deliver great service to our customers and to ourselves can be achieved.
Safety: We believe that we can ensure the state of being safe.  Protect from harm or hazards to oneself, our company and to others.  Do it right and do it safe.
Responsibility: We believe we have a duty or obligation to satisfactorily perform and complete our tasks to the fullest.
Courage: We believe in mental and moral strength.  All actions withstanding danger, fear or difficulty.  We believe in the ability to be different and deliver above all expectations
Honesty and Respect: We believe that honesty make for the best relationships.  It leads to trust.  We practice tolerance, good manners and consideration of the feeling of others
Work Hard: We believe in self improving oneself.  Hard work will help develop self discipline and focus.  We believe through hard work delivers efficient and product results.
Current Career Listings
Candidate Requirements:
We are always looking for talented technicians to join our growing team. Please read our job openings and descriptions below, then fill out this form. We will reach out to you if we think you are a good fit!
Strong problem-solving and electrical diagnostic skills
Strong Communication and People Skills
Valid Driver's License and Clean Driving Record
Drug Test and Background Check
HVAC Service Technician
Work with the great team at Cottam HVAC, a family-owned company operating more than 35 years in installation and service for customers in NYC, Bronx, Westchester and nearby Connecticut.
EPA Universal Certification to handle refrigerant preferred
*CT License a plus
*Will facilitate acquiring the EPA Universal Certification for refrigerant handling
HVAC Service Technician Responsibilities:
Respond to service calls in company vehicles with company tools.
Valid drivers license and clean record REQUIRED
Accurately diagnose service issues and recommend repairs to customers. Present repair and maintenance plans to customers.
Repair customer equipment and perform maintenance cleaning as per maintenance plans and customer authorizations.
Able to lift up to 50 pounds and climb 24-36 inch ladders.
Maintain professional image at all times.
HVAC Service Technician Qualifications:
2-5 years in HVAC service Preferred but not required if you have other relevant experience
Technical troubleshooting ability
Knowledge of heating and cooling systems for residential and small commercial operations.
Ability to discuss issues with customers in a friendly professional manner
Ability to repair customer equipment with appropriate company tools without close supervision.
Work with support personnel in the Cottam office.
HVAC Service Technician Benefits:
Sign On Bonus
Competitive salary
Benefits & Commissions on sales.
Competitive salary with experience $30-40/hour plus overtime and commissions on sales
401K Plan and Profit Sharing Benefit
Medical plan
Paid holidays (9 days) and paid vacation.
Paid training, ability to become Nate Certified and Connecticut Licensed.
Company van and power tools.
Uniforms and boot allowance provided
It is the policy of Cottam HVAC to provide equal employment opportunities to all persons regardless of age, national origin, gender and/or expression.
Job Type: Full-time
Pay: Up to $49.00 per hour
COVID-19 considerations:
We are practicing all of the NY State CDC Regulations and have a safety plan in effect for all of our staff members and clients
Job Type: Full-time
Salary: $23.00 – $65.00 per hour
Benefits:
401(k)
Dental insurance
Employee discount
Health insurance
Paid time off
Relocation assistance
Retirement plan
Schedule:
8 hour shift
Day shift
Monday to Friday
Night shift
On call
Weekend availability
Supplemental pay types:
Bonus pay
Commission pay
Tips
COVID-19 considerations:
Customers and employees required to wear masks, common surfaces sanitized regular, PPE provided as needed, regular temperature screening and recordings, Social distancing required when applicable
Education:
High school or equivalent (Preferred)
Experience:
HVAC: 2 years (Required)
License/Certification:
Driver's License (Required)
EPA Certification (Preferred)
Work Location: Multiple locations
HVAC Installer
We are looking to fill a full time permanent HVAC Installer Position: We are a Lite Commercial and Residential Contractor. Our installs are high end residential split systems, lite commercial split & package systems, sheetmetal ductwork and Heat pump Systems. We offer top wages and benefits with support for a path to achieve maximum potential.
Experience with residential and light commercial HVAC equipment, furnaces, boiler, water heaters, split systems duct free and roof top units
Experience with sheet metal ductwork, duct work fittings and accessories
Experience with piping, cutting, soldering, brazing threading and pipe associated craft
Ability to install humidification systems and associated accessories
Familiar with control wiring, thermostats and their installation
Be able to install and start up installed equipment and adjust to the manufacturers and job specifications
Be able to troubleshoot, adapt and resolve / repair all issues that arise during installation that would keep the equipment from functioning properly
Perform required documentation for each installation with a complete startup record
Must have a customer service attitude
Must work well within a team environment
Continuously improve knowledge of general HVAC practices
Must have a clean valid Drivers License
We offer the following: * Top pay for your dedication, time and knowledge
Vacation, sick and personal days
7 Paid Holidays
Company clothing and apparel
Health Benefits
Retirement Plan (401K Plan)
Profit Sharing Participation
Bonus and incentive program
Company outings and events
On and off site training opportunities
Our company provides a family environment where you are treated and respected and given the opportunity to grow, learn and enjoy your life !Required experience:
5 years HVAC Installation experience
Job Type: Full-time
Salary: $52,000.00 – $85,000.00 per year
Benefits:
401(k)
Dental insurance
Employee discount
Health insurance
Paid time off
Referral program
Vision insurance
Schedule:
10 hour shift
8 hour shift
Supplemental pay types:
Signing bonus
Education:
High school or equivalent (Preferred)
Experience:
HVAC: 4 years (Required)
License/Certification:
EPA Universal Certification (Preferred)
Work Location: Multiple locations