5 Tips For Assessing An HVAC System When Buying A Home
We're Ready to Help!
One of the things that makes buying a house stressful is the nagging fear that something will break down soon after moving in. The range won't heat up, the boiler will start leaking, or the heating, ventilation and air-conditioning (HVAC) equipment will refuse to work, leaving a major hole in the household budget.
You can't predict the future, but the following tips will give homebuyers an idea of what to expect from a house's HVAC equipment. But remember, these tips should not be used in place of the findings of a licensed home inspector.
The stat sheet on the house you are interested in should list the types of HVAC equipment, as well as the fuel used to power them. If it does not, be sure to ask. Here are some tips for judging HVAC equipment in a potential home.
VISUALLY INSPECT THE EQUIPMENT.
Furnaces, boilers and air conditioning units are usually hidden away in a basement or utility area. Does the equipment look like it is in good condition? Does it make odd noises? You probably won't be able to make an accurate assessment of the system based only on how it looks, but you may notice something that concerns you. If you proceed to the next step of the home-buying process, you can discuss the issues with a home inspector. You can also hire an HVAC contractor to perform an inspection of the equipment.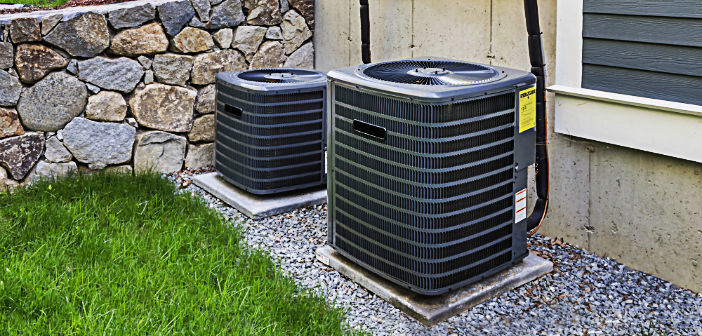 ASK ABOUT THE SYSTEM'S AGE.
HVAC equipment has a finite lifespan. Once the system is about 15 years old, it should be replaced. While many air conditioners, heat pumps, furnaces, and boilers can work well longer than 15 years, especially if they are well maintained, energy regulations and advances in technology make newer equipment much more energy efficient — and therefore cost efficient — than older models. The Department of Energy estimates that a 12-year-old central air conditioner that is replaced with a new Energy Star model, which will be more energy efficient than standard models, can reduce your air conditioning bill by 30 percent.
LOOK FOR THE ENERGY LABEL.
All heating and cooling equipment should have a yellow energy label. The label lists the energy efficiency of the unit and its operating costs relative to similar equipment. The table below provides a standard against which you can judge the equipment and the requirements for an Energy Star logo. Items that qualify are more energy efficient than typical equipment. Keep in mind that the table only lists minimum standards. You can find furnaces, air conditioners, and heat pumps that are much more energy efficient than the minimum ratings.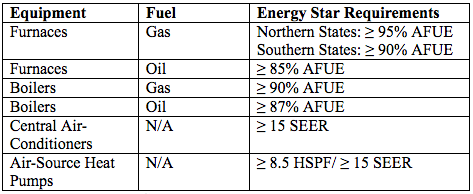 Source: www.energystar.gov
Boilers and furnaces are rated by annual fuel utilization efficiency (AFUE), which provides information on the amount of fuel that is converted to heat. The seasonal energy efficiency ratio (SEER) tells how efficient an air conditioner is in converting electricity into cooling. The heating seasonal performance factor (HSPF) measures the heating efficiency of heat pumps.
When judging the efficiency of the HVAC equipment in a home, know that the rating on the label refers to a brand new unit. Unless the equipment was properly maintained, it probably is not as efficient as the label states.
ASK ABOUT PAST MAINTENANCE AND REPAIRS.
Heating and cooling equipment needs maintenance to operate properly. It does not hurt to ask about past maintenance, especially if you show interest in the house. Sometimes, HVAC technicians leave behind a dated job ticket when they service an air conditioner, boiler, furnace or heat pump. It may be attached to the unit or posted nearby and tells the next technician what has been done to the system. Job tickets are essentially a mini-maintenance record. Check them for frequent repairs, especially if they involve big-ticket items like blower motors or compressors. A few large repairs on an older system could mean trouble in the future.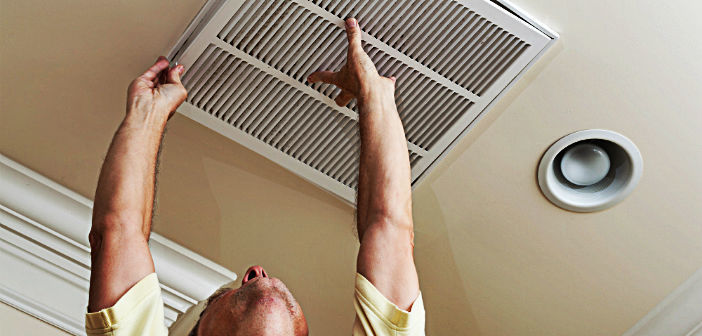 NOTICE THE COMFORT LEVEL IN DIFFERENT ROOMS.
Pay attention to how comfortable you are as you tour the house. There's a problem if the house is hot and stuffy when the AC is cranking or if it feels drafty when the heat is on. If only certain rooms are uncomfortable, it could mean there is something wrong with the delivery system, such as leaking or uninsulated ducts.
Be sure to inspect the HVAC equipment as thoroughly as possible before you commit to purchasing a new home. Take the time to survey the equipment, and ask questions about its history. Taking simple steps can save you from discovering a big problem after you've moved in.